Product Description
Transcend's SATA III 6 Gb/s SSD230S
Transcend's SATA III 6Gb/s SSD230S uses the latest 3D NAND technology that features vertical, stacked expansion of storage cells. By using high-quality flash memory and enhanced firmware algorithms, the SSD230S delivers greater performance and reliability.
3D expansion to break through limits
Unlike planar NAND memory, 3D NAND flash features memory cells stacked vertically in multiple layers. 3D NAND overcomes density limitations of 2D planar NAND, and delivers a higher level of performance and endurance.
Performance boost for everyday computing
Taking full advantage of the SATA III 6Gb/s interface and built-in SLC caching technology, Transcend's SSD230S achieves exceptional transfer speeds of up to 560MB/s read and 520MB/s write.
Guaranteed endurance and reliability
Transcend's SSD230S offers great Terabytes Written (TBW) values (up to 1,120 TB) indicating the total amount of data you can write into the drive over its lifetime.
RAID engine and LDPC coding
Detects and corrects transfer errors to prevent data corruption in TLC-based SSD products
Garbage Collection
Relocates existing data to release memory blocks
Wear-leveling
Distributes data evenly across memory cells to prolong SSD's lifespan
DevSleep
Intelligently shuts down SATA interface when not in use to prolong device's battery life
DDR3 DRAM cache
Stores a temporary copy of the most active data to shorten access times
A better choice than HDD
Solid-state drives dominate the market for PC upgrades because they are faster and lighter than hard disk drives. SSDs also feature less power, create less noise when in operation, and are more shock-resistant than traditional hard drives.
3 easy steps to upgrade your PC
Transcend's SSD230S measures just 6.8mm in height and features short access times, making it a perfect choice for upgrading desktops, laptops, and the latest gaming consoles in just 3 easy steps!
SSD Scope software
Transcend SSD Scope is advanced, user-friendly software that makes it easy to ensure your Transcend SSD remains healthy and continues to run fast and error-free by determining the condition and optimizing the performance of your drive. Download here.
Guaranteed quality
Transcend's solid-state drives are built to the highest standards and rigorously tested, and offer outstanding quality, performance, and reliability.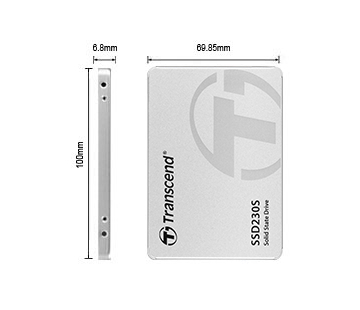 Appearance
Dimensions
100 mm x 69.85 mm x 6.8 mm (3.94" x 2.75" x 0.28")
Weight
53 g (1.87 oz)
Storage
Flash Type
3D NAND flash
Capacity
128GB/256GB/512GB/1TB/2TB
Operating Environment
Operating Temperature
0°C (32°F) ~ 70°C (158°F)
Operating Voltage
5V±5%
Performance
Sequential Read/Write (CrystalDiskMark)

2TB up to 560/520 MB/s

1TB up to 560/500 MB/s

512GB up to 560/500 MB/s

256GB up to 530/400 MB/s

128GB up to 560/380 MB/s

4K Random Read/Write (IOmeter)

2TB up to 85,000/89,000 IOPS

1TB up to 85,000/85,000 IOPS

512GB up to 80,000/85,000 IOPS

256GB up to 65,000/85,000 IOPS

128GB up to 35,000/70,000 IOPS

Terabytes Written (TBW)

2TB 1,120 TBW

1TB 560 TBW

512GB 280 TBW

256GB 140 TBW

128GB 70 TBW

Mean Time Between Failures (MTBF)
2,000,000 hour(s)
Drive Writes Per Day (DWPD)
0.3 (5 yrs)
Note
Speed may vary due to host hardware, software, usage, and storage capacity.
The workload used to rate DWPD may be different from your actual workload, which may vary due to host hardware, software, usage, and storage capacity.
Warranty
Certificate
CE/FCC/BSMI/KC/RCM
Warranty
Five-year Limited Warranty
Warranty Policy
Warranty does not apply when SSD Scope's wear-out indicator displays 0% within the warranty coverage.
Package
Package Contents
Full unit
System Requirement
Operating System

Microsoft Windows 7
Microsoft Windows 8
Microsoft Windows 10
Linux Kernel 2.6.31 or later
macOS

Technology
TRIM & NCQ Command
Yes
S.M.A.R.T.
Yes
DDR3 DRAM Cache
Yes
Advanced Garbage Collection
Yes
DevSleep Mode
Yes
RAID Engine
Yes
LDPC Coding
Yes
Three-year Limited Warranty
Please click
here
for more information about the Transcend Warranty Policy.
Warranty does not apply when SSD Scope's wear-out indicator displays 0% within the warranty coverage.
Other Details
Compatible to any laptop or PC with compatible 2.5inch SATA connection.
Apple Mac computers
Special note for specific 2009 iMacs, 2008-2010 MacBooks, 2008-2009 MacBook Pros & 2009 Mac mini.
We highly recommend the use of a SATA 2.0 (3Gb/s) SSD such as the
OWC Mercury Electra 3G
for the following Macs:
While a 6G SSD does function, it will only do so at SATA Revision 1.0 (1.5Gb/s, 150MB/s) speeds rather than the SATA Revision 2.0 (3.0Gb/s 300MB/s) speed the computer can deliver.
The Mercury Electra 3G SSD is the OWC recommended upgrade option for the Macs listed in the special note above.

This Transcend 6G SSD is compatible with nearly any Mac or PC model with a Serial ATA connection (SATA, SATA 2.0, or SATA 3.0) including:
MacBook Pro (15-inch 2012) (June, 2012) Model ID: MacBookPro9,1 | 2.3GHz, 2.6GHz, 2.7GHz
MacBook Pro (13-inch 2012) (June, 2012) Model ID: MacBookPro9,2 | 2.5GHz, 2.9GHz
MacBook Pro (17-inch 2011) (October, 2011) Model ID: MacBookPro8,3 | 2.4GHz, 2.5GHz
MacBook Pro (15-inch 2011) (October, 2011) Model ID: MacBookPro8,2 | 2.2GHz, 2.4GHz, 2.5GHz
MacBook Pro (13-inch 2011) (October, 2011) Model ID: MacBookPro8,1 | 2.4GHz, 2.8GHz
MacBook Pro (17-inch Early 2011) (February, 2011) Model ID: MacBookPro8,3 | 2.2GHz, 2.3GHz
MacBook Pro (15-inch Early 2011) (February, 2011) Model ID: MacBookPro8,2 | 2.0GHz, 2.2GHz, 2.3GHz
MacBook Pro (13-inch Early 2011) (February, 2011) Model ID: MacBookPro8,1 | 2.3GHz, 2.7GHz
MacBook Pro (17-inch Mid 2010) (April, 2010) Model ID: MacBookPro6,1 | 2.53GHz, 2.66GHz, 2.8GHz
MacBook Pro (15-inch Mid 2010) (April, 2010) Model ID: MacBookPro6,2 | 2.4GHz, 2.53GHz, 2.66GHz, 2.8GHz
MacBook Pro (13-inch Mid 2010) (April, 2010) Model ID: MacBookPro7,1 | 2.4GHz, 2.66GHz
MacBook Pro (17-inch Late 2008) (October, 2008) Model ID: MacBookPro4,1 | 2.5GHz, 2.6GHz
MacBook Pro (17-inch Early 2008) (February, 2008) Model ID: MacBookPro4,1 | 2.5GHz, 2.6GHz
MacBook Pro (15-inch Early 2008) (February, 2008) Model ID: MacBookPro4,1 | 2.4GHz, 2.5GHz, 2.6GHz
MacBook Pro (17-inch Mid/Late 2007) (June, 2007) Model ID: MacBookPro3,1 | 2.4GHz, 2.6GHz
MacBook Pro (15-inch Mid/Late 2007) (June, 2007) Model ID: MacBookPro3,1 | 2.2GHz, 2.4GHz, 2.6GHz
MacBook Pro (17-inch Core 2 Duo) (October, 2006) Model ID: MacBookPro2,1 | 2.33GHz
MacBook Pro (15-inch Core 2 Duo) (October, 2006) Model ID: MacBookPro2,2 | 2.16GHz, 2.33GHz
MacBook Pro (15-inch Glossy) (May, 2006) Model ID: MacBookPro1,1 | 2.0GHz, 2.16GHz
MacBook Pro (17-inch) (April, 2006) Model ID: MacBookPro1,2 | 2.16GHz
MacBook Pro (15-inch) (January, 2006) Model ID: MacBookPro1,1 | 1.83GHz, 2.0GHz, 2.16GHz
MacBook (Late 2008) (October, 2008) Model ID: MacBook4,1 | 2.1GHz
MacBook (Early 2008) (February, 2008) Model ID: MacBook4,1 | 2.1GHz, 2.4GHz
MacBook (Late 2007) (November, 2007) Model ID: MacBook3,1 | 2.0GHz, 2.2GHz
MacBook (Mid 2007) (May, 2007) Model ID: MacBook2,1 | 2.0GHz, 2.16GHz
MacBook (Late 2006) (November, 2006) Model ID: MacBook2,1 | 1.83GHz, 2.0GHz
MacBook (May, 2006) Model ID: MacBook1,1 | 1.83GHz, 2.0GHz
Mac mini (Late 2014) (October, 2014) Model ID: Macmini7,1 | 1.4GHz, 2.6GHz, 2.8GHz, 3.0GHz
Mac mini (Late 2012) (October, 2012) Model ID: Macmini6,1 & Macmini6,2 | 2.3GHz, 2.5GHz, 2.6GHz
Mac mini (Late 2012 Server) (October, 2012) Model ID: Macmini6,2 | 2.3GHz, 2.6GHz
Mac mini (Mid 2011) (July, 2011) Model ID: Macmini5,1 & Macmini5,2 | 2.3GHz, 2.5GHz, 2.7GHz
Mac mini (Mid 2011 Server) (July, 2011) Model ID: Macmini5,3 | 2.0GHz
Mac mini (Mid 2010) (June, 2010) Model ID: Macmini4,1 | 2.4GHz, 2.66GHz
Mac mini (Mid 2010 Server) (June, 2010) Model ID: Macmini4,1 | 2.66GHz
Mac mini (Mid 2007) (August, 2007) Model ID: Macmini2,1 | 1.83GHz, 2.0GHz
iMac (27-inch Late 2013) (September, 2013) Model ID: iMac14,2 | 3.2GHz i5, 3.4GHz i5, 3.5GHz i7
iMac (21.5-inch Late 2013) (September, 2013) Model ID: iMac14,1; iMac14,3 | 2.7GHz i5, 2.9GHz i5, 3.1GHz i7
iMac (27-inch Late 2012) (November, 2012) Model ID: iMac13,2 | 2.9GHz i5, 3.2GHz i5, 3.4GHz i7
iMac (21.5-inch Late 2012) (November, 2012) Model ID: iMac13,1 | 2.7GHz i5, 2.9GHz i5, 3.1GHz i7
iMac (27-inch Mid 2011) (May, 2011) Model ID: iMac12,2 | 2.7GHz i5, 3.1GHz i5, 3.4GHz i7
iMac (21.5-inch Mid 2011) (May, 2011) Model ID: iMac12,1 | 2.5GHz i5, 2.7GHz i5, 2.8GHz i7
iMac (27-inch Mid 2010) (July, 2010) Model ID: iMac11,3 | 2.8GHz, 2.93GHz, 3.2GHz, 3.6GHz
iMac (21.5-inch Mid 2010) (July, 2010) Model ID: iMac11,2 | 3.06GHz, 3.2GHz, 3.6GHz
iMac (27-inch Mid 2010) (July, 2010) Model ID: iMac11,3 | 2.8GHz i5, 2.93GHz i5, 3.6GHz i7
iMac (21.5-inch Mid 2010) (July, 2010) Model ID: iMac11,2 | 3.6GHz i5
iMac 27-Inch (Late 2013 - 2019)
iMac19,1 - A2115 - EMC 3194
iMac18,3 - A1419 - EMC 3070
iMac17,1 - A1419 - EMC 2834
iMac15,1 - A1419 - EMC 2806
iMac 21.5-Inch (Late 2013 - Current)
iMac19,2 - A2116 - EMC 3195
iMac18,2 - A1418 - EMC 3069
iMac18,1 - A1418 - EMC 3068
iMac16,2 - A1418 - EMC 2833
iMac16,2 - A1418 - EMC 2889
iMac16,1 - A1418 - EMC 2889
iMac14,4 - A1418 - EMC 2805
Mac Pro 12-Core (Mid 2010-2012) (July, 2010 / June 2012) Model ID: MacPro5,1 | 2.40GHz, 2.66GHz, 2.93GHz, 3.06GHz
Mac Pro 12-Core (Mid 2010-2012) (July, 2010 / June 2012) Model ID: MacPro5,1 | 2.40GHz, 2.66GHz, 2.93GHz, 3.06GHz
Mac Pro 8-Core (Mid 2010) (July, 2010) Model ID: MacPro5,1 | 2.4GHz
Mac Pro 6-Core (Mid 2010-2012) (July, 2010 / June 2012) Model ID: MacPro5,1 | 3.33GHz
Mac Pro (Mid 2010 Quad-Core) (July, 2010) Model ID: MacPro5,1 | 2.8GHz, 3.2GHz, 3.33GHz
Mac Pro (Early 2009 8-Core) (March, 2009) Model ID: MacPro4,1 | 2.26GHz, 2.66GHz, 2.93GHz
Mac Pro (Early 2009 Quad-Core) (March, 2009) Model ID: MacPro4,1 | 2.66GHz, 2.93GHz, 3.33GHz
Mac Pro (Early 2008) (January, 2008) Model ID: MacPro3,1 | 2.8GHz, 3.0GHz, 3.2GHz
Mac Pro (8-core) (April, 2007) Model ID: MacPro2,1 | 3.0GHz
Product Videos
Custom Field
Model Id
MacBookPro9,1 - A1286 - EMC2556
Model Id
MacBookPro9,2 - A1278 - EMC2554
Model Id
MacBookPro8,3 - A1297 - EMC2352
Model Id
MacBookPro8,3 - A1297 - EMC2564
Model Id
MacBookPro8,2 - A1286 - EMC2353
Model Id
MacBookPro8,2 - A1286 - EMC2563
Model Id
MacBookPro8,1 - A1278 - EMC2419
Model Id
MacBookPro8,1 - A1278 - EMC2555
Model Id
MacBookPro7,1 - A1278 - EMC2351
Model Id
MacBookPro6,2 - A1286 - EMC2353
Model Id
MacBookPro6,1 - A1297 - EMC2352
Model Id
MacBookPro5,5 - A1278 - EMC2326
Model Id
MacBookPro5,4 - A1286 - EMC2324
Model Id
MacBookPro5,3 - A1286 - EMC2325
Model Id
MacBookPro5,2 - A1297 - EMC2272
Model Id
MacBookPro5,2 - A1297 - EMC2329
Model Id
MacBookPro5,1 - A1286 - EMC2255
Model Id
MacBookPro4,1 - A1261 - EMC2199
Model Id
MacBookPro4,1 - A1260 - EMC2198
Model Id
MacBookPro3,1 - A1229 - EMC2137
Model Id
MacBookPro3,1 - A1226 - EMC2136
Model Id
MacBookPro2,2 - A1211 - EMC2120
Model Id
MacBookPro1,2 - A1151 - EMC2102
Model Id
MacBookPro1,1 - A1150 - EMC2101
Model Id
MacBook7,1 - A1342 - EMC2395
Model Id
MacBook6,1 - A1342 - EMC2350
Model Id
MacBook5,2 - A1181 - EMC2300
Model Id
MacBook5,2 - A1181 - EMC2330
Model Id
MacBook5,1 - A1278 - EMC2254
Model Id
MacBook4,1 - A1181 - EMC2242
Model Id
MacBook3,1 - A1181 - EMC2200
Model Id
MacBook2,1 - A1181 - EMC2139
Model Id
MacBook2,1 - A1181 - EMC2121
Model Id
MacBook1,1 - A1181 - EMC2092
Model Id
Macmini7,1 - A1347 - EMC2840
Model Id
Macmini6,2 - A1347 - EMC2570
Model Id
Macmini6,1 - A1347 - EMC2570
Model Id
Macmini5,3 - A1347 - EMC2442
Model Id
Macmini5,2 - A1347 - EMC2442
Model Id
Macmini5,1 - A1347 EMC2442
Model Id
Macmini4,1 - A1347 - EMC2364
Model Id
Macmini3,1 - A1283 - EMC2264
Model Id
Macmini3,1 - A1283 - EMC2336
Model Id
Macmini2,1 - A1176 - EMC2108
Model Id
iMac14,2 - A1419 - EMC2639
Model Id
iMac13,2 - A1419 - EMC2546
Model Id
iMac13,1 - A1418 - EMC2544
Model Id
iMac13,1 - A1418 - EMC2545
Model Id
iMac12,2 - A1312 - EMC2429
Model Id
iMac12,1 - A1311 - EMC2428
Model Id
iMac12,1 - A1311 - EMC2496
Model Id
iMac11,3 - A1312 - EMC2390
Model Id
iMac11,2 - A1311 - EMC2389
Model Id
iMac14,1 - A1418 - EMC2638
Model Id
iMac14,4 - A1418 - EMC2805
Model Id
iMac16,1 - A1418 - EMC2889
Model Id
iMac16,2 - A1418 - EMC2889
Model Id
iMac16,2 - A1418 - EMC2833
Model Id
iMac18,1 - A1418 - EMC3068
Model Id
iMac18,2 - A1418 - EMC3069
Model Id
iMac19,2 - A2116 - EMC3195
Model Id
iMac15,1 - A1419 - EMC2806
Model Id
iMac17,1 - A1419 - EMC2834
Model Id
iMac18,3 - A1419 - EMC3070
Model Id
iMac19,1 - A2115 - EMC3194
Model Id
MacPro5,1 - A1289 - EMC2314-2
Model Id
MacPro5,1 - A1289 - EMC2629
Model Id
MacPro4,1 - A1289 - EMC2314
Model Id
MacPro3,1 - A1186 - EMC2180
Model Id
MacPro2,1 - A1186 - EMC2138
Model Id
iMac9,1 - A1225 - EMC2267
Model Id
iMac9,1 - A1225 - EMC2134
Model Id
iMac9,1 - A1224 - EMC2316
Model Id
iMac10,1 - A1311 - EMC2308
Model Id
iMac10,1 - A1312 - EMC2309
Model Id
iMac11,1 - A1312 - EMC2374
Product Reviews